---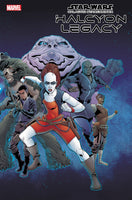 YOUR TICKET TO THE HOTTEST RIDE IN THE GALAXY!
•  The Halcyon comes under fire from pirates - with little chance of escape!
•  Who is the mysterious Resistance spy on board that may lead to the fiery end of the ship's 275-year run?
•  And find out how, years earlier, bounty hunter AURRA SING and a mysterious partner gambled with their lives during the galactic starcruiser's era as a flying casino!
Rated T