---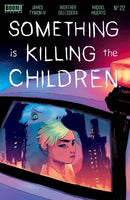 Outside London, the shadowy figure on Erica's trail relays information to their enigmatic superior about the rogue agent in the House of Slaughter.

Meanwhile, a town finds itself in the clutches of an elusive serial killer, and the only living witness to the crimes is a frightened child.

Erica investigates the grisly scene of the most recent murder, ignorant of the hostile forces drawing in around her...
#somethingiskillingthechildren #boomstudios #horror #slasher #indiecomics