---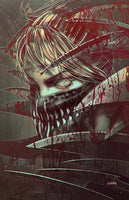 Pre-Order Released October 18, 2023 - Ships October 31, 2023
Limited Print Run - John Giang
Trade Limited to 500
Virgin Limited to 500
Foil Limited to 500
The horror is far from over as the terrifying Duplicitype, the infamous monster that changed Something is Killing the Children forever, remains at large...

Meanwhile, Cutter is still in relentless and sinister pursuit!

With Tribulation still very much in danger, will Erica finally find the ally she needs, or is betrayal in the cards?
On all Order's we Can't Guarantee 9.8 but we will try our Best to get You a 9.8 Copy
We can only Guarantee a 9.2 Copy – Read Below to see what a 9.2 is
Near mint

 

to

 

Near Mint

- / 9.4 TO 9.2
This book is an excellent copy with great eye appeal.
It is vibrant with supple pages.

The spine may have a couple of very small stress lines that break color.

Minor creasing.

The spine is almost completely flat.

The cover is relatively flat with almost minimal surface wear and the cover inks are generally bright with medium to high reflectivity.

The staples may show some discoloration, but it's not too noticeable on first glance.

The inside pages and covers usually will be off-white/white, but can be cream/off-white with the absence of other defects.