---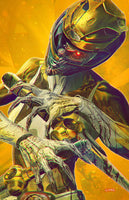 Limited Print Run - John Giang

Trade Limited to 500
Virgin Limited to 500
(W) Melissa Flores (A) Simona Di Gianfelice (CA) Taurin Clarke
In the kickoff of this monumental 12-month event, Mistress Vile has won, or so it seems, with control of the Grid and Dark Specter's infections spreading through the universe!

As if an epic battle between Vile and the Vessel wasn't enough, the separated and stranded Rangers receive help from the last team they'd expect, but it may not be the help they were hoping for...

In the tradition of Shattered Grid and perfectly timed with the 30th anniversary of Power Rangers, writer Melissa Flores (Dead Lucky) and Simona Di Gianfelice (All-New Firefly) kick off the event they've been building to for the last year that will forever change the Power Rangers universe!

Fans of Marvel Zombies and DCeased wouldn't be caught dead missing out on the debut of the Dark Grid Variant Covers-the most twisted threats the Rangers have ever seen brought to life!

On all Order's we Can't Guarantee 9.8 but we will try our Best to get You a 9.8 Copy
We can only Guarantee a 9.2 Copy – Read Below to see what a 9.2 is
Near mint

 

to

 

Near Mint

- / 9.4 TO 9.2
This book is an excellent copy with great eye appeal.
It is vibrant with supple pages.

The spine may have a couple of very small stress lines that break color.

Minor creasing.

The spine is almost completely flat.

The cover is relatively flat with almost minimal surface wear and the cover inks are generally bright with medium to high reflectivity.

The staples may show some discoloration, but it's not too noticeable on first glance.

The inside pages and covers usually will be off-white/white, but can be cream/off-white with the absence of other defects.