---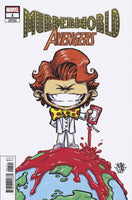 READY. SET. DIE!
•  Hundreds are killed every year in an elaborate secret tournament run by a sadistic man with nearly limitless resources at his fingertips.
•  It's not an urban legend. It's not a myth - MURDERWORLD is real! It's online, and the gruesome truth has been hidden from everyone except its victims - until NOW.
•  Meet Paul Pastor, the extraordinary young documentarian who's going to expose it all... with some super-powered help. The Black Widow has a personal grudge to settle with Murderworld mastermind Arcade - but can she stop this game before it kills again?
MURDERWORLD is the wildly violent ride you've been waiting for. Gut-wrenching twists, unbelievable deaths, the Avengers bloodier than you've ever seen them before - the tormented minds of Jim Zub (Conan the Barbarbian, AVENGERS: NO SURRENDER), Ray Fawkes (One Soul, Constantine) and Jethro Morales kick off the must-have miniseries of the year! RATED T+