---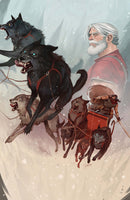 Live Sale will Start During the Convention December 1, 2023
Limited to 500 - LA Comic Con 2023 Exclusive
Set in a dark fantastic past of myth and magic, Klaus tells the story of how Santa Claus really came to be. Where did he begin? What was he like when he was young? And what happens when he faces his greatest challenge? Drawing on Santa Claus' wilder roots in Viking lore and Siberian shamanism—taking in the creepier side of Christmas, and characters like the sinister Krampus—Klaus is "Santa Claus: Year One."


Rated Comics / LA Comic Con 2023 Exclusive

Artists Dan Mora

Limited Print Run of 500
On all Order's we Can't Guarantee 9.8 but we will try our Best to get You a 9.8 Copy
You can See by our Reviews we ship with Acrylic Backers for Safety - to keep the Comic Safe "The Best on the Market"
We can only Guarantee a 9.2 Copy – Read Below to see what a 9.2 is
Near mint

 

to

 

Near Mint

- / 9.6 TO 9.2
This book is an excellent copy with great eye appeal.
It is vibrant with supple pages.

The spine may have a couple of very small stress lines that break color.

Minor creasing.

The spine is almost completely flat.

The cover is relatively flat with almost minimal surface wear and the cover inks are generally bright with medium to high reflectivity.

The staples may show some discoloration, but it's not too noticeable on first glance.

The inside pages and covers usually will be off-white/white, but can be cream/off-white with the absence of other defects.