---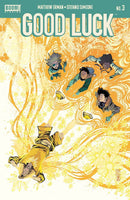 You've got to ask yourself one question: "Do I Feel Lucky?"
The Unfortunates finally strike upon some Good Luck, though they have disappeared from the Kismet Zone.
Will Artie, Cherry, and Hilde uncover the reason behind their disappearance and be able to hold onto their luck, or is time running out for them?