---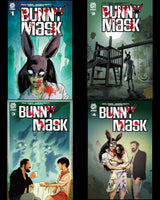 Enjoy your Bunny Mask Comic Set Issue #1 Through 4. Bunny Mask the first story Arc. Each Comic is individually packaged and protected in its own Rated Comics Backer Board. Do have a blissful read.
A new horror series from the creator of the Eisner-nominated Colder!

Sealed in a cave before the dawn of man, released by a crazed madman, Bunny Mask walks our world once more. But for what dark purpose does she use her unnatural powers? And what's her connection to Bee Foster, a young girl murdered by her father fourteen years ago? In order to save his life - and his sanity - one man will have to discover the truth of what waits behind the mask.

Writer Paul Tobin (Colder) and artist Andrea Mutti (MANIAC OF NEW YORK, Hellblazer) unleash an eons old legend upon an unsuspecting world - one that'll make your most horrific
nightmare feel like a walk in the park!
#bunnymask #bunnymaskcomicset #aftershock #aftershockcomics #paultoblin #andreamutti